California Mixed Vegetables
Parsley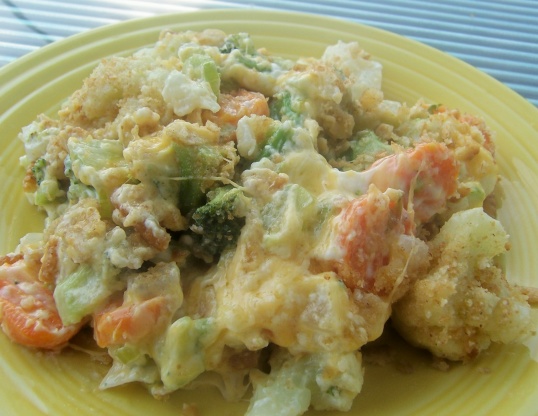 A delicious way to eat your veggies! This recipe comes from a Home Cooking Magazine and it is now one of our favorite side recipes.

I was not paying attention and mixed the water in with the vegetables, then baked it all together without cooking it as directed. Loved it, no complaints, I made it again and did it the same way since it worked out the last time. Thanks for great recipe, I will be making this often.
Preheat oven to 350°F.
Place water in a saucepan and add frozen vegetables, celery and onion.
Cook for 5-10 minutes until vegetables become slightly tender.
Drain vegetables and place in a mixing bowl.
Add mayonnaise and shredded cheddar cheese to vegetables and mix.
Place mixture into a casserole dish that has been sprayed with non-stick cooking spray.
Pour melted butter over vegetables.
Sprinkle crushed butter flavored crackers over top.
Bake for 20 - 30 minutes.
~NOTE~ The frozen veggies I buy includes carrots, broccoli, and cauliflower.