California (Mexican) Tortilla Casserole
TigerJo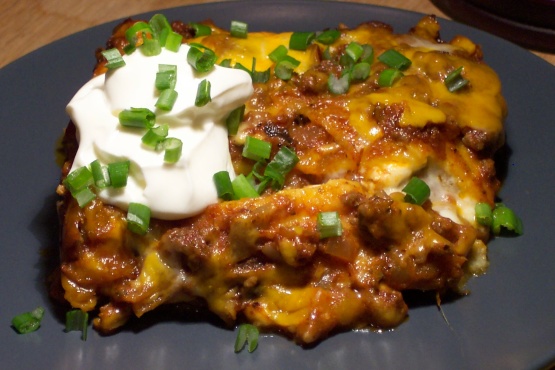 This recipe came from a dietitian I know; her original recipe came from Bon Appetit. I haven't made this for awhile, but I tried to include the time it takes to slice and grate the cheeses within the prep time. Total servings should be at least six, perhaps eight.

I absolutely loved this recipe. I, too, left out the olives, as I don't like them. The other review suggested using tortilla chips, so I did that. It was crunchy and PERFECT. I think Fritos would have been just as good, but I enjoyed the tortilla chips. Thank you SO much for the great recipe. I'm sure we're going to make this very often. Update: Have I mentioned that I love this stuff? I could seriously eat the whole freakin' dish of it. I thought I would throw a suggestion in there, though, for those who like things pretty spicy like me. I doubled the green chilies, and it was perfectly spicy. Yum, yum!
Preheat oven to 350°; Grease (or spray with non-stick pan spray) a 3qt casserole dish; set aside.
In large skillet, saute beef with onion and garlic over medium heat (in batches if necessary) and drain; sprinkle chili powder over meat and mix well.
Add tomato sauce, sugar, salt, olives, and green chiles; simmer over very low heat for 15 minutes.
Beat cottage cheese and egg together until blended.
In bottom of 3qt casserole dish, spread 1/3 of meat; layer with half of jack cheese, half cottage cheese& egg, half tortillas, then next 3rd of meat.
Continue layering with remaining jack cheese, c/c, remaining tortillas, ending with remaining 1/3 meat; sprinkle top with cheddar cheese.
Bake, uncovered, at 350° until thoroughly heated and cheese is melted; serve with sour cream, sliced black olives and green onion if desired (recommended).