California Cheeseburger Pasta Casserole
Parsley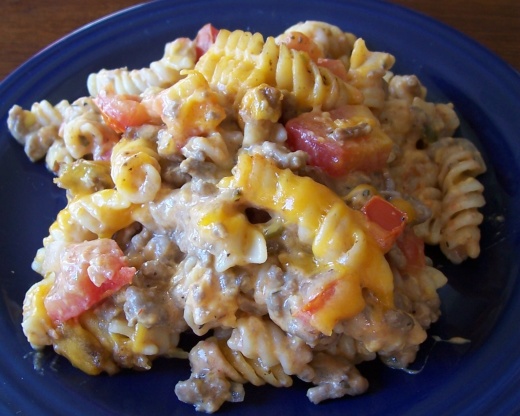 It really does taste like a Ca. Cheeseburger! You can skip baking and just serve it staight from the skillet if your short on time. My kids really love it.

We enjoyed this casserole! Something a little different that does taste like cheeseburgers. A half recipe was plenty for my family of five. Used a drained can of diced tomatoes, American cheese, and baked as directed. Thanks for sharing the recipe!
Prepare pasta according ton package directions; drain. Do NOT rinse.
While pasta is cooking, in a large skillet, brown ground beef with onion. Drain fat.
Return beef and onion mixture to hot skillet. Over low-med heat, stir in tomatoes, tomato sauce, milk, mayo, ketchup, relish, mustard, pepper, salt, garlic powder, oregano and 2 1/2 cups cheese. Stir and cook until cheese is melted. Add hot cooked pasta and gently mix together.
At this point either:.
a) sprinkle with remaining 1/2 cup cheese; heat through and serve. OR.
b) Pour into a 13" x 9" or larger baking dish, sprinkle with remaining 1/2 cup cheese ans bake at 350 for 20-25 minutes.