Mulligan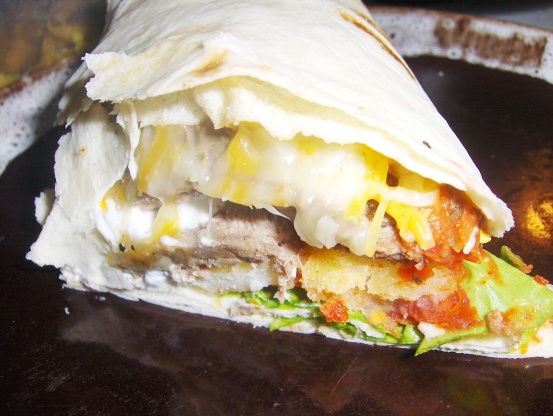 This is what we call a California burrito in San Diego. It's simple yet perfect. I'm just listing ingredients for one burrito.

This is my favorite kind of burrito. They make the best ones @ Taco Shop in San Jacinto, but Ive never tried to make one.. now i will. =) @ some places, they put guacomole in it as well, but its definately not as good.
118.29

ml carne asada meat or 118.29 ml pollo asada meat, chopped up

10

French fries (should be larger softer french fry not hard and skinny.)

56.69

g shredded cheddar cheese
Make sure meat, french fries and tortilla are fresh and warm.
Fill tortilla with carne or pollo asada add fries, sour cream and cheese.
Serve immediately.
Enjoy!