Rita1652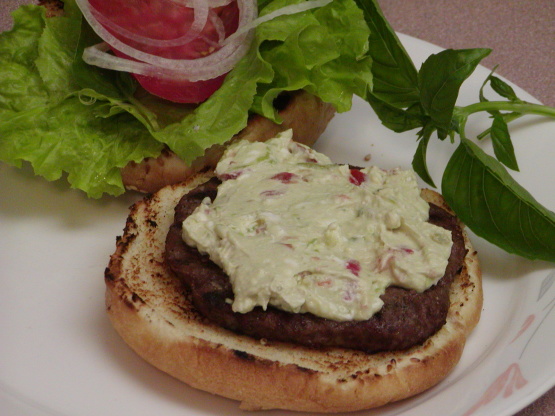 I found this in an old Philadelphia Brand Cream Cheese cookbook and made a few changes to update it a bit and to suit my family. We loved the results!

I whipped the cream cheese first then added the avocado mixed in the rest of the ingredients. I liked it on the burger but found the burger took over the dip. But I enjoyed it so much more as a dip with veggies and tortilla chips. This would make a great spread for inside a wrap. The burger is a 4 star as a dip 5 stars. Thanks for a versatile recipe.
Combine softened cream cheese, avocado, chives or onion, lemon juice and salt; mixing until well blended; add tomato, mix lightly.
Shape ground beef into six oval patties; broil (or grill) on both sides to desired doneness; season with salt and pepper.
For each sandwich, cover one bread slice with lettuce, then the beef patty, the cream sauce and then sprinkle on the bacon.