California Breakfast Bread
Elodie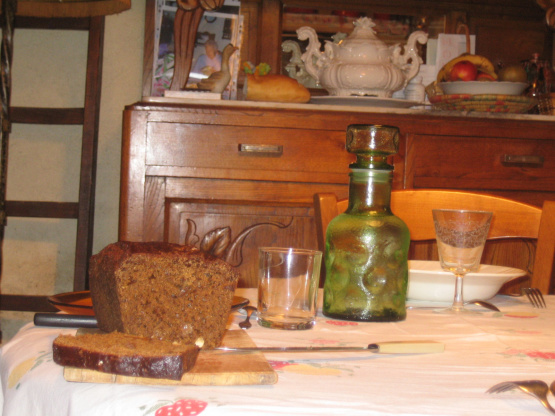 I have no idea why this is called California Breakfast Bread or where it comes from. I found this recipe typed, by a real typewriter, on a sheet of note paper. Goes to show that it has been around for awhile. It is scrumptious.

Top Review by Roosie
This is a great bread with a lovely dark brown color and a very fine and dense crumb. I substituted 2/3 cup whole wheat pastry flour for the white flour (this is the substitution ratio that I have found works best for me) and used dried cranberries rather than raisins and walnuts for the nuts. It's not a terribly sweet bread, so next time I might add some more fruit bits because they add a nice sweetness to the bread. The bread is so dense and moist it is almost textured like a fine cake, but definitely much healthier! It rose well and is a really pretty loaf. Despite the whole grains, it is not dry, too dense or crumbly at all. You're right- it is scrumptious!
Preheat oven to 400 degrees.
Prepare a non-stick loaf pan by spraying with cooking spray.
Mix together all ingredients and pour into prepared pan.
Place pan in oven and lower oven temperature to 350 degrees.
Bake for 1 hour.
Turn loaf out on rack and cool.
Allow bread to cool at least 8 hours before slicing and toasting this bread.