gailanng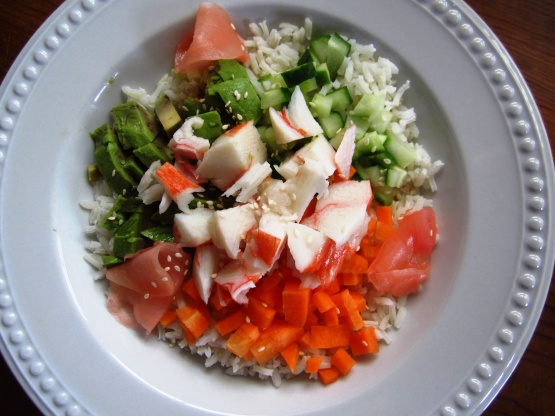 Like California rolls but don't want seaweed? Not too skilled at rolling your own sushi? Try this easy and flexible recipe. You can easily add or subtract whichever sushi ingredients you like to make your favorite flavor. Enjoy!

My 11 year old daughter and I had eaten California Rolls earlier today and she wanted more, so we went searching for a recipe that she could make. She did everything herself and loved it. We used imitation crab leg (all we had) and I splashed teriyaki sauce over the top of mine instead of soy. We also didn't use the ginger or sesame seeds, and diced the avocado since it really didn't say what to do with it. But overall it was an awesome meal!
Cook rice with 1-1/2 cups of water (and a splash of rice vinegar or lemon juice, if you choose) for 20 minutes or until soft and sticky. Cool the cooked rice in the refrigerator until room temperature.
Meanwhile, shell the crab legs and tear the crabmeat into small pieces. Dice the carrot and cucumber into small pieces.
Press rice into two bowls. Pressed rice should have a dip in the middle.
Add crab, avocado, carrot and cucumber into the dip in the rice.
Drizzle with soy sauce. Top with ginger and sesame seeds.