COOT226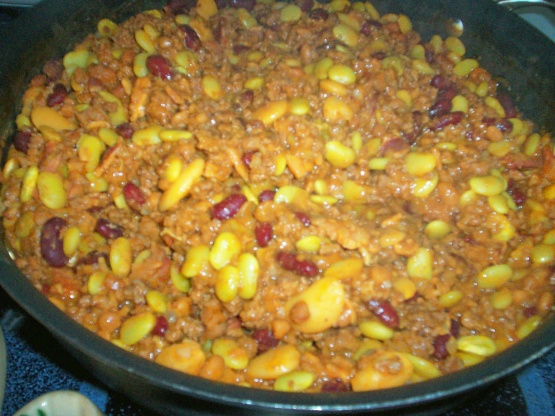 I got this recipe from a co-worker about 10 years ago. She brought it for a pot luck and it smelled and tasted delicious. Everyone loved it so I got the recipe. Now My husband brings it every year to his Thanksgiving potluck.
We really loved the flavor of these beans. I made them exactly as written, baking them in the oven for 2 hours. I used a 9x13" baking dish which I think might have been a little too shallow as the beans tended to dry out too much (although they still tasted yummy). Next time, I will try using a different dish or I might try covering the dish to prevent the beans from drying out. Thank you for sharing this wonderful recipe...it is definitely a keeper. *Made for New Kids on the Block tag game*
Brown Ground beef with onion till it is cooked and no longer pink - Drain.
Mix all ingredients together and cook in Crook pot/Slow cooker on high for 5 1/2 - 6 hours - stir every 1/2 hour.
Or you can bake at 350 degrees in oven for 2-3 hours - stir every 1/2 hour.
( If you can not find Lima Beans in a can - use Frozen).