Calhoun's Knoxville Tennessee Spinach Maria
Dona M.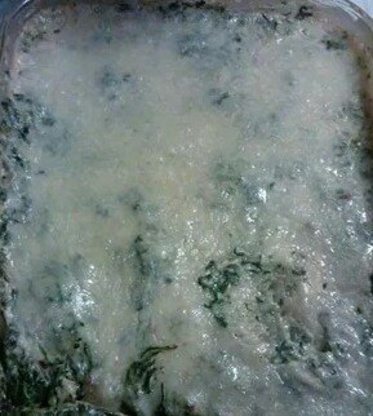 If you live in Knoxville or have ever visited and eaten at Calhoun's, you surely love Spinach Maria. It is WONDERFUL!! It is a great side dish but you can also use this as an appetizer or party food. It is like a cheesy spinach dip. SO YUMMY!!!!! The recipe was printed in the Knoxville paper. You can also scale it down if you don't want such a large amount--but it is great leftover!!

This was awesome! I halved the recipe and added a little freshly grated nutmeg into the seasoned milk mixture but otherwise followed the directions exactly. You could really diry up some pots and pans with this recipe, but I used the same pot for sauteeing the onions and making the roux and added the milk mixture into that same pot. I think adding the grated montery jack on top is a little overkill for out tastes, but not a big deal to omit that in the future. This was certainly a crowd pleaser at Christmas dinner and was surprisingly a hit with the kids as well. Must be all that cheese! This dish will certainly be a keeper and we thank you for sharing it.
Thaw spinach.
Squeeze as much excess water as possible from spinach.
Heat milk and spices in a 4 qt.
saucepan on medium heat to just below a boil.
Reduce and simmer.
Saute chopped onion in 1 TBSP butter on medium heat for 5-8 minutes.
Add onion to saucepan.
Combine the 5 TBSP melted butter with the flour in a small saucepan.
Mix until completely blended.
Cook on low heat 2-3 minutes.
Add to milk in saucepan and mix.
Continue to cook until sauce thickens.
Cut cheeses into small cubes and add to saucepan.
Continue to mix until all the cheese is completely melted and blended into the sauce.
Be CAREFUL not to BURN the sauce while cheese is melting.
Remove from heat.
Allow to cool for 15 minutes.
Add drained spinach to cheese sauce and mix till completely blended.
Spoon into a 11x9x2 or large casserole and top with grated Monterey jack cheese.
Bake at 350 for 12-15 minutes, until hot and bubbly.
This can be served as a side dish or as an appetizer with tortilla chips.