teresas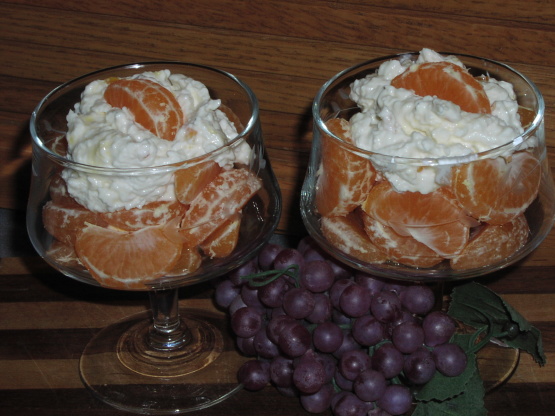 An easy, creamy dessert from Scotland.

This is so creamy and delicious...I cut the recipe in half for the two of us...I forgot to use the double cream for the photo's...but at the last min I remembered so removed the topping and added the cream...the mixture did come out more creamy but not so pretty after I messed with it...I used the brandy but I bet the rum would be tasty too..this is very easy to prepare and makes a great presentation...I would serve this to company...thanks for posting it...=)
Place first 6 ingredients in a blender and blend until smooth. Add more sugar if needed.
Place the orange segments in four long-stemmed glasses and add a teaspoon of brandy (or rum) to each glass.
Divide the cream on top of each.
Chill until ready to serve. Serve chilled.