3 Reviews
This was terrific and quite easy to make. I also used chorizo, and made exactly as posted, except I did add a little fresh ground pepper. I also used fresh thyme, because I happened to have it on hand. Thanks for sharing!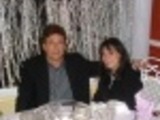 Made this with Chorizo sausage and followed this exactly as its written...used organic tomatoes and kale , rinsed the chickpeas well ....it was amazing !! Served with Easy, fast and hearty
I used 8 ounces (3 links)of andouille sausage. and leftover 3 cups cooked My Favorite Sauteed Kale. I used turkey stock I had frozen, added dried parsley, black pepper and pepper flakes. The chickpeas I rinsed and drained very well to remove any excess salt. I did simmer for 30-40 minutes because we weren`t ready to eat. This was so very good. My DH loved it and he doesn`t do greens. Thanks for the delish healthy good eats!

Caleb's Sausage, Kale & Chickpea Soup