Calcium Rich Sesame Kale Salad
FawnM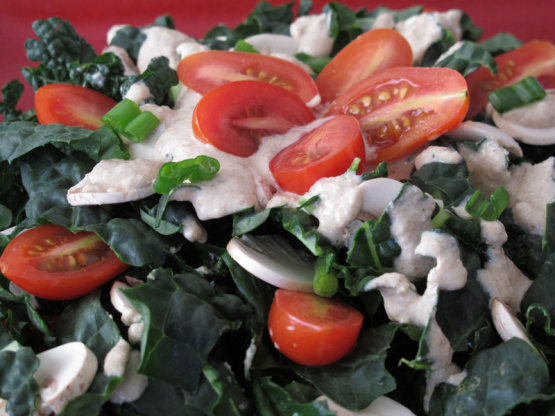 This Sesame Kale Salad is so rich in calcium that it has more per serving than one cup of 2% milk. In fact, serving for serving, nutritionally, this recipe blows milk out of the … out of its carton. Got Sesame-Kale-Salad?
Chop or tear Kale leaves, slice mushrooms, and halve tomatoes. Set aside.
To prepare dressing first grind sesame seeds into a powder using a coffee grinder or blender. Add remaining ingredients and blend smooth.
Arrange prepped vegetables on serveware and top liberally with Sesame Dressing. Or toss all ingredients in a mixing bowl before serving.
* The Sesame Dressing is delicious with kale by itself. Also great on top of raw broccoli florets. Yummo!