Calamari, Tomato and Caper Salad
Zurie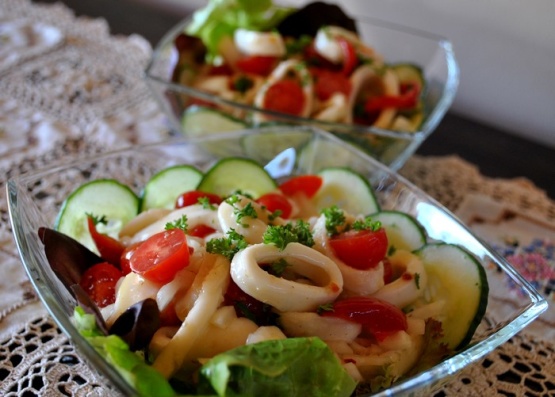 This is easy to make and will certainly impress whoever you serve it to because of its beautiful mix of colors and shapes. It also is very fast to put together. Adapted from Giada di Laurentis of the Food Network.

Top Review by Zurie
Oops, this is one I forgot to review during the Christmas rush. I apologise. A lovely salad!! I tweaked it somewhat to turn it into a starter -- I used sliced cucumber and left out the pepper flakes, and also, I used raw tomato. For appearance, I put it in lettuce leaves of different colours. Hope you don't mind. Also, I had very few capers left, so they got lost a bit, something I should have seen when taking the photograph, but didn't. It's hot here, it's high summer, and this salad is definitely on the menu again! One hint: calamari rings, stirred in hot oil, cooks in just about 30 seconds, until opaque white. So I shortened your cooking time for the rings considerably. A great combo of flavours you have here, and I've bought two bottles of capers!! Thank you!
In a large skillet, heat oil over medium high heat and cook the garlic until fragrant, about 30 seconds; add tomatoes and red pepper flakes and cook about 2 minutes.
Season calamari rings with salt and pepper, then add to the skillet; saute, stirring, until cooked through, about 2 or 3 minutes.
Transfer to a colander to drain a bit.
Place the lemon juice, olive oil, capers, and lemon zest into a clean glass jar with a lid; shake to combine, taste, and season with salt and pepper.
Transfer the salad to a serving bowl, pour dressing over top and gently toss to coat with dressing.
Garnish with fresh parsley.