Boomette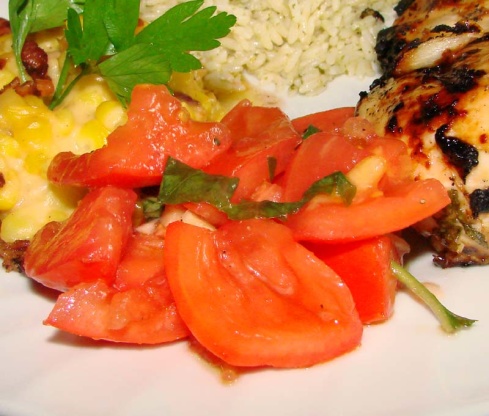 In the Summer when the tomatoes were over flowing from the garden, my Father used to make this. He told me his Grandfather, Frank Scavo, used to make it for him. The longer it sits the better it gets. I recommend preparing it first before you begin dinner so it has about an hour to marinate. If you are using fresh basil from the garden bump it up to 2 T. chopped. If you are using fresh basil from the jar, use just 1.
I used only 3 garlic cloves cause I'm not a garlic fan. The salad is great. But DH loved it even more than me. In fact, I give it to him. He's so happy. He loves garlic and he wants me to give the recipe to his mom. Thanks Cooks4_6. Made for Newest Zaar tag.
Chop the tomatoes into large, but bite size pieces keeping the seeds and juice. Place into a medium bowl.
Add the other ingredients except the olive oil. Mix well.
Add olive oil. Mix well again.
Marinate at room temperature for at least one hour.