Cake With Green Tomatoes and Cream Cheese Frosting
Rita1652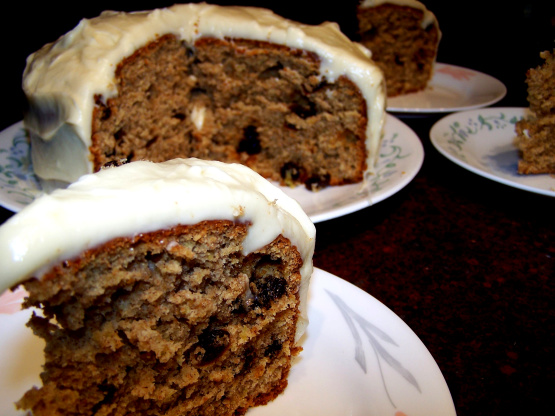 This cake needs green tomatoes. It has a cream cheese frosting which looks so yummy. This is from Ricardo.

Nice but a bit dry! I baked for 60 minutes. And should have removed sooner. I added 1 1/2 teaspoons cinnamon. Nuts would be great in this. Maybe if made into 2 layers and baked for 30 minutes with frosting in between the layers would be the way to go. The frosting I did use 6 ounces of cream cheese using 1 1/2 cups sugar. Interesting!
In a bowl, sprinkle half sugar and half salt on tomatoes. Let rest 15 minutes. Put in the blender and reduce in a smooth puree. Add raisins and set aside.
Put the rack in the center of the oven. Preheat at 350°F Butter an 8 inch spring form pan. Cover the bottom with parchment paper.
In a bowl, mix flour and baking powder. Set aside.
In another bowl, whisk with a mixer : oil, remaining sugar and vanilla until is it homogeneous. Add eggs, one at a time, mixing until smooth. At low speed, incorporate dry ingredients alternating with the mixture of tomatoes.
Distribute the batter in the pan. Cook in the oven about 1 hour and 10 minutes or until a toothpick inserted in the middle comes out clean.
Let cool. Unmold and let cool on a rack.
Icing : In a bowl, with a mixer, cream the cheese, butter, sugar and vanilla until smooth.
Ice the cake.