CrystalA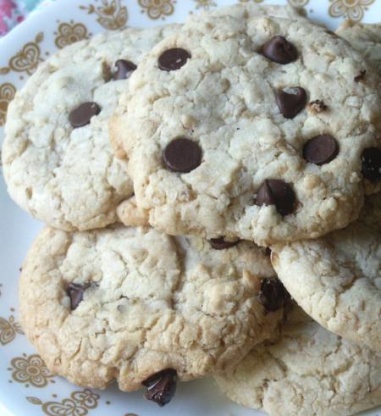 This recipe comes from a local church, fundraising cookbook. It was submitted by Janice, by dear stepson's Mom. These a good yummy comfort type cookies. Great with that special cup of coffee or glass of milk. Cook time is per cookie sheet.

Thank goodness for a good cookie recipe that works when I am out of milk and almost out of sugar!! I omitted the cup of sugar, nuts and chips and added 1 tsp of cinnamon and 1/4 tsp of nutmeg. I also did 1/2 cup of applesauce to replace 1/2 of the oil the recipe called for. I was going to add raisins but then realized I was out of them too!! These were easy and tasty too!
Combine first 3 ingredients in large bowl and mix together with spoon.
Combine oil, eggs& vanilla extract, beat slightly and then add to dry ingredients, stir well.
Stir in pecans and mix well.
Stir in chocolate morsels if you choose to add these and mix well.
Drop by teaspoonful on ungreased cookie sheet.
Drop about 2-inches apart.
Bake at 325°F for 12 minutes or until lightly browned.