Cake Mix Italian Cream Cake
MarieRynr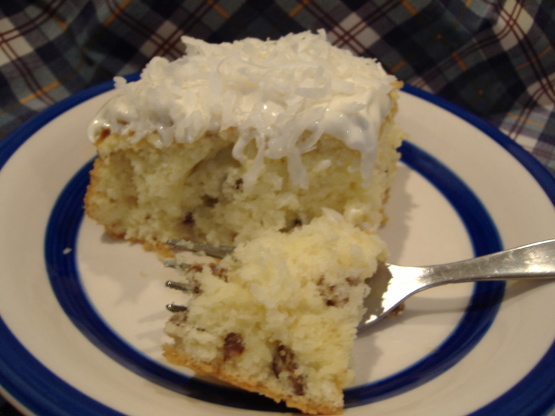 I found this recipe while web surfing and have misplaced it twice. I haven't had a chance to make it yet and realized that if I don't post it I will loose it. It sounds good and easy.

This cake is wonderful! My husband said it made him feel "dirty"-like he was cheating on his all time favorite German Chocolate. I did alter the recipe slightly. I used 3/4 cup heavy cream and 3/4 cup water in the cake batter instead of all water. I also toasted my pecans and used them in the cake and the icing. I decided to make a layer cake instead of the sheet cake so I made extra frosting. This cake is one you want to make if you want to impress someone-it's that good!
Preheat oven to 350 degrees.
In a large mixer bowl add the cake mix, vanilla pudding, water, eggs and oil.
With electric mixer, beat for 2 minutes at medium speed.
Fold in the chopped nuts and coconut.
Pour the batter into a 9 x 13 inch pan that has been sprayed with non-stick cooking spray or lightly greased and floured.
Bake for 45 minutes or until toothpick inserted off center comes out clean.
Cool completely before frosting.
In a medium sized mixer bowl, blend the butter and cream cheese.
Add the confectioners' sugar and enough cream to make it a smooth spreading consistency.
Frost cake with frosting and sprinkle with coconut.