lizzy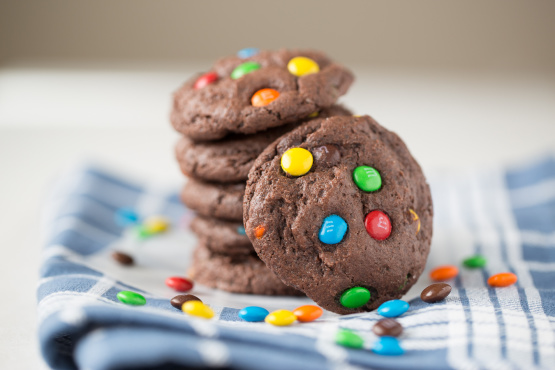 This recipe is very easy to put together and takes practically no time to make. Try other flavors of cake mixes if you like. When I make them, I use 2 cups (total) of peanut butter chips and chocolate chips mixed together. Very easy to whip up at halftime!

THANK YOU BOTH, LORAC & LINDA!!! I never would have tried a cake-mix cookie on my own, but after reading Lorac's thread about the killer chocolate-orange combo, I had to give it a shot. These were wonderful! I used orange cake mix, and (as I was out of chips) 2 cut-up Ritt milk chocolate bars. Heavenly tasting, wonderfully textured, and not a single person I served them to suspected they came from a box. A real winner, especially considering how easily and quickly they came together! Thank you very much! UPDATE: I've made these yet again. Half a batch the chocolate-orange, and the other half a devil's food with white chocolate chunks & almond bits. Mmm. I even made a few of the cookies yin-yang style and they looked superb and were really just the best of both worlds. Thanks again, you've made some quite happy people here! (posted 5/20/2002)UPDATE AGAIN!! Made a fresh batch with spice cake mix and cinnamon chips. What a great and different cookie! I think these would do smashingly as a holiday 'gift' cookie with a little bit of cream cheese icing on top.
1

(18 1/4 ounce) box chocolate cake mix
1⁄2 cup vegetable oil

2

eggs

2

cups chocolate chips or 2 cups butterscotch chips or 2 cups peanut butter chips
1⁄2 cup chopped nuts (optional)
Combine cake mix, oil and eggs in a bowl and mix well.
Stir in chips and nuts, if using.
Drop by teaspoons on ungreased cookie sheet and bake at 350 degrees for 8-10 minutes.
Upon removing from oven, let the cookies stand on sheet for two minutes, then cool on racks.