Cake Mix Christmas Cookies
Rita1652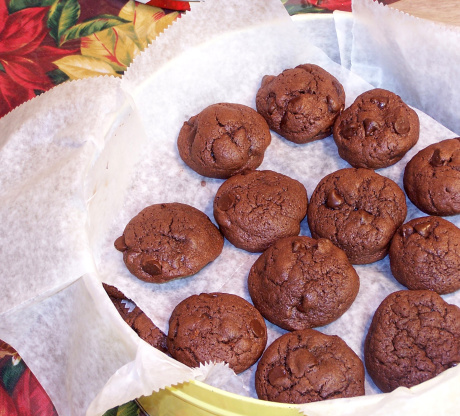 This is quick and easy! Chilling makes handling these easier. Option for a lemon glazed cookie--all you have to do is in place of the water use the frozen lemon concentrate for a real tart cookie and/or use lemon cake mix. Then mix a bunch of powdered sugar with the frozen lemon contentrate thats at room temperature for a nice tart icing! Pictures uploaded here on Nov 27 using carrot cake mix, 1/4 cup coconut, 1/4 cup chopped nuts then sprinkled with cinnamon sugar before and after baking. Dec 10 used chocolate cake mix and chocolate mint chips.

OH YUMMY! This was so easy to make! When my daughters friend came over, and they started arguing about whether they should play inside or outside, I suggested making these cookies and that settled the argument right away. :) We used devil's food chocolate cake mix, and put dried cranberries in them. I did chill the dough in the freezer for about 15 minutes and had the girls roll out the balls and roll them in the powdered sugar. It was also nice because they were actually able to help me put the ingredients in and everything. (They're both 6 years old) I was a little worried they wouldn't like them with the cranberries, but they loved them. Thank you for this oh so simple and fantastic recipe! Also wanted to mention that after mixing all the ingredients, the dough was VERY thick. I thought something was wrong at first, but they turned out great, so I suppose it was supposed to be like that. :)
Mix all together.
Shape in 1" balls and roll in powdered sugar(optional).
You may want to chill dough before rolling. Place on parchment lined baking sheet.
Bake 10-12 minutes at 375°F.