Pam-I-Am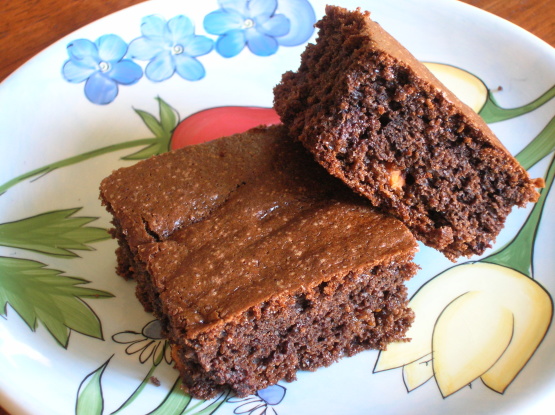 Life's uncertain eat dessert first! Rich, thick, chocolaty and very moist brownies.

Have often hoped to recreate my gramma Doris' Red Velvet swirl brownies but could not find the right cake mix based blend. This one seems about perfect so we'll see. While she would've never stooped to using canned condensed milk the entire can seemed like it yielded the proper consistency. (hey, I was young and mostly licked the spoons! lol)
In a large bowl, mix the 1st 4 ingredients by hand till blended. Set aside.
In a saucepan, or microwave, melt the chocolate chips, add sweetened condensed milk and stir till completely blended. Add to cake mixture, mix by hand till well blended.
Pour in 9x13 pan that has been sprayed by cooking spray.
Bake at 350 for 40-45 minutes. Let cool, cut into squares.
You might want to add chips, nuts, or use yellow cake mix, and white chocolate chips to make blondies.