Cake Doughnuts 1972 ( Canadian )
Baker30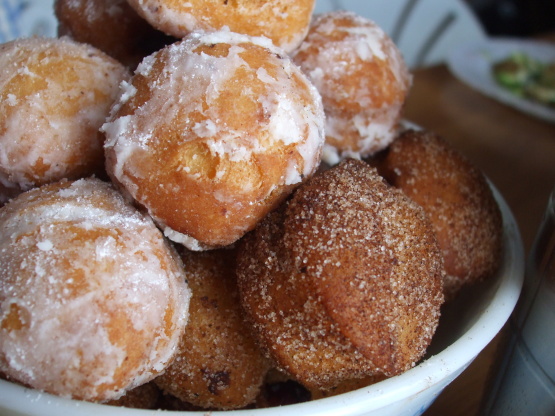 I remember my mom making these in my high school days. Later I got the recipe, and now make them for my family. Sometimes I add a touch of nutmeg in my buttermilk too. Adds another element of flavour.

I hate to give these only 3 stars but I guess I had higher expectations for them. They're good..pretty easy. Guess we're not that much of cake doughnut fans. They are easy but they still took me awhile to fry all them and I only got about 18 doughnuts out of a batch, not 30. And they were 18 pretty small ones at that. For the work of doing it, I think I'll just stick with bought, but it was fun to make at first. Thanks.
Combine sugar and salt in a large bowl.
Stir in the egg.
Stir in the oil, buttermilk, and vanilla.
Sift all remaining ingredients, and add a little at a time.
Do this in four or five portions, mixing into wet after each.
Mix and turn out on a lightly floured board.
Keep the dough a soft soft but not sticky dough.
Roll out 1/2 inch thick.
Cut with cutter.
Fry in hot fat in a deep fryer.
Temperature of the oil should be 370 degrees.
(Or should fry a bread cube in 60 seconds).
Fry until golden brown, turning once during frying time.
Drain on paper towels.
Cool.
Dust with icing powder or make a butter icing glaze.