Boomette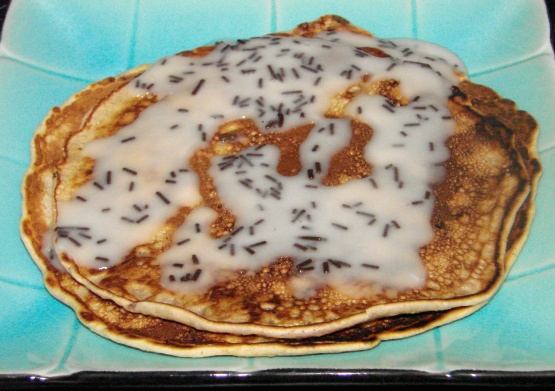 A recipe from the blog How Sweet It Is. It looks so yummy and a special treat. I know my son will love it.

I increased the amount of cake mix and decreased the amount of flour. The flavor and texture greatly depend on the quality of the cake mix that you use. When served straight from the skillet, the "cake batter" flavor was lacking but as the pancakes cooled, the flavor came out more.
Combine flour, cake mix, baking powder, sugar and salt in a bowl and mix. Add milk, egg and vanilla extract and stir until smooth.
Preheat a skillet on medium heat. Fold desired amount of sprinkles into batter. Pour batter in 1/4 cup measurements onto skillet and let cook until bubbles form on top, about 2-3 minutes. Flip and cook for 1 minute more. Serve with vanilla glaze.
Glaze : Mix milk, extract and powdered sugar until glaze forms. You may need to add a little more sugar or water/milk to reach desired consistency. Mix into glaze and drizzle on pancakes.