Rinad84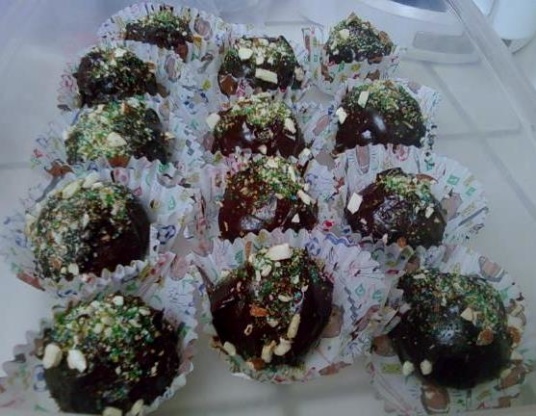 This is a delicious recipe. Made it a few times and made some changes along the way. Such as substituting the frosting stuffing with cream cheese! It's my fav! And also making the frosting from scratch rather than the store bought one. You can basically try any sort of stuffing or frosting you desire. It's very easy to make... enjoy!

My daughter turned 4 yesterday and I decorated a cake for her and had so many cake scraps that I felt I had to do something with them. I used my own custard butter cake recipe and followed the rest 100%. What a wonderful recipe - very rich though. No-one could eat more than two. Thanks for posting Rinad84 I will be sure to use this recipe again.
517.37

g package chocolate cake mix

3

eggs (or as called for by your cake mix)

78.07

ml oil (or as called for by your cake mix)

314.66

ml water (or as called for by your cake mix)

2

(907.18 g) cream cheese (melted)

Frosting

236.59

ml semi-sweet chocolate chips

1

bar butter

44.37

ml milk (or a spoon more to make it creamier)

Coating

chopped almonds
sprinkled sugar
Prepare the cake mix according to package directions using any of the recommended pan sizes.
When cake is done, wait about 20 min then crumble while warm into a large bowl, and stir in the melted cream cheese until well blended.
In a sauce pan put the butter and milk then add the chocolate chips. stirring occasionally until smooth.
Use a spoon to scoop and form balls of the chocolate cake mixture.
Dip the balls in chocolate frosting using a toothpick or fork to hold them.
Place into wax paper.
Sprinkle almonds and sugar for decoration.
Keep refrigerated for 30 min before serving.