Cajun Turkey Meatloaf (Low Fat) Hubbie's Favorite
Jb Tyler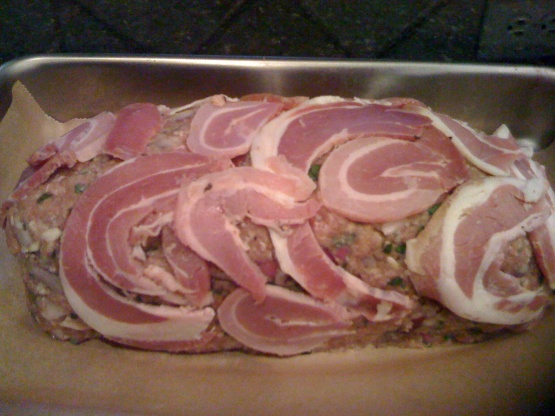 A healthy version of meatloaf that does not sacrifice the taste for a healthy alternative! Leftovers are great on onion rolls with lettuce and tomato for a great sandwich treat. Your can use either Creole or Cajun seasoning. I've been making this for years, and I can't remember where I got it. Sometimes, I put slices of pancetta (or bacon) on the outside. Of course, it isn't as healthy - but it sure is pretty and tastes great.

Probably the most flavorful ground turkey-based recipe I've ever had. We added 1 minced jalapeno pepper, 3/4 of a minced green bell pepper, 1 thinly-sliced green onion and about 4 oz. mushrooms (sauteed before adding). We didn't have any dry breadcrumbs so we substituted Quaker Oats. We also used Dijon mustard instead of spicy mustard. We did find that it was too salty. I plan to cut the amount of Creole seasoning down to 1.5 tablespoons next time we make this.
Preheat over to 350 degrees F.
Combine first 9 ingredients in large bowl. Season with salt (remember that the creole or cajun seasoning can be salty) and pepper. Place turkey mixture in 9x5-inch nonstick loaf pan. Cover and bake 20 minutes. Remove from oven, and spread top with mustard. Bank uncovered another 35 minutes. Let stand 10 minutes. Remove from pan and cut into slices.