Cajun-Style Red Beans and Rice
KateL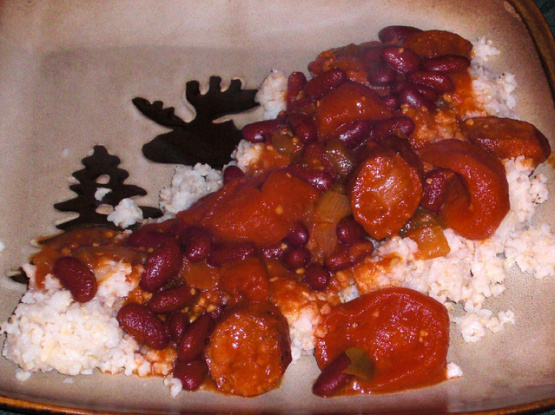 This is a hearty Southern dish, easy to make and full of flavor and quite spicy! I sometimes add in cooked ground beef, you can add in some chopped cooked bacon or use spicy dryed smoked sausage to the beans for smokey flavor --- I also like to add in some Creole seasoning -- see my The Best Creole/Cajun Seasoning Mix

Really liked this. We used the bacon, which I know should be sausage to keep authentic but I wasn't going for authentic. Which explains why I also used black beans. This didn't take much time/effort and uses staple items, so we'll make this often. Thanks for posting!
Heat oil in a large skillet over medium heat.
Add in onions, garlic green bell pepper and crushed chili flakes; saute until veggies are soft (about 8 minutes).
Sprinkle with chili powder and paprika, cook about 1 minute.
Add in tomato sauce, stewed tomatoes and hot sauce (if using) season with salt and add in sugar to taste if needed.
Add in beans, cooked ground beef and bacon if using; mix to combine and simmer for about 1 hour.
Serve mixed or over rice topped with a dollup of sour cream if desired.