PanNan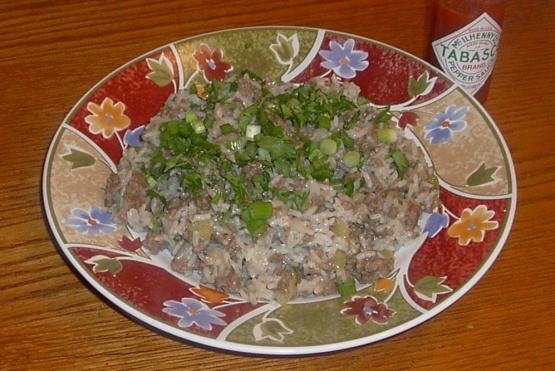 A Cajun dirty rice or rice dressing recipe adapted to family tastes with the ground beef. It's one of the most requested meals in our home.

Top Review by TamBAM
WAHOO! This was GREAT! Made it for the first time to take to a covered-dish Super Bowl party--it was a huge hit with both men and women. I didn't have a mirliton on hand, so I used a medium zucchini, chopped and parboiled, instead. Then I used the zucchini water to cook the rice. Everyone just gobbled it up. Thanks for sharing a terrific recipe!
Spray a large non-stick pan with vegetable oil spray.
Brown meat in pan along with diced onion, pepper, celery and garlic.
Drain fat and season with cayenne pepper, onion and garlic salt.
Add water and simmer for about 20- 30 minutes, until the vegetables are cooked down. (You may need to add a little water during the simmer time to keep from sticking.)
Add Worcestershire sauce, Tabasco sauce, cream of mushroom soup and mirliton.
Simmer for 15 minutes.
Add cooked rice, stir gently, until all rice is moistened.
Add mirliton (optional).
Top with green onion and parsley, stir lightly and serve.