Cajun Style Baked Sweet Potato
Nif_H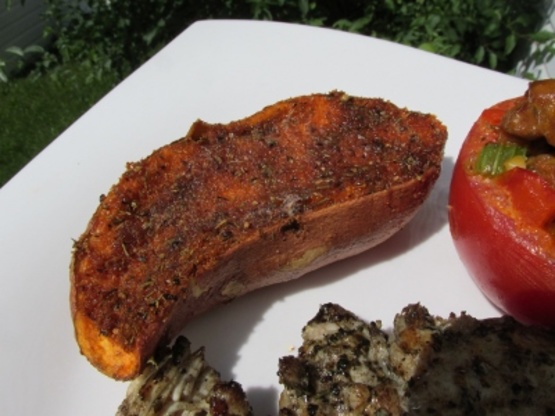 Tired of the same old baked sweet potato? Great for picnics and barbecues, these sweet potatoes are seasoned with a homemade herb and spice mix.
What a lovely way to jazz up a sweet potato ! Definitely some heat here (though I may tend to be liberal with the cayenne). DH & I really enjoyed this. With some ground lamb it made a delicious work lunch for me and just on it's own for a quick lunch at home. Sorry I forgot to take a picture, I'll be making this again and will then for sure. Thanks so much for posting, EK ! Made during ZWT#9 for my team, Tasty Testers :)
Preheat oven to 375ºF (190ºC).
In a small bowl, stir together paprika, brown sugar, black pepper, onion powder, thyme, rosemary, garlic powder, and cayenne pepper.
Slice the sweet potatoes in half lengthwise. Brush each half with olive oil. Rub the season mix over the cut surface of each half. Place sweet potatoes on a baking sheet, or in a shallow pan.
Bake in preheated oven until tender, or about 1 hour.