Nif_H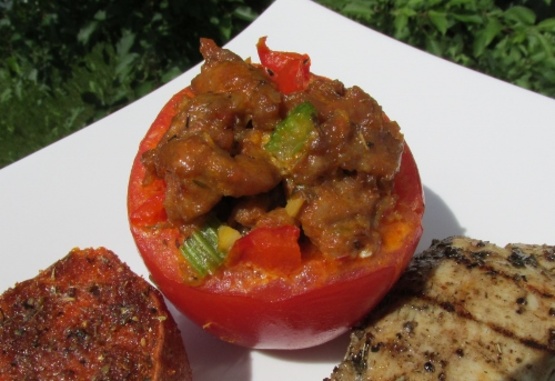 Not sure where I found this recipe, but it sounds good.

Top Review by Nif_H
This recipe is SO good! I was making Recipe #503664 and Recipe #503663 and needed a veggie for the side. This recipe has few ingredients and was ready in no time. I halved the recipe and there was enough stuffing for 4 medium tomatoes. Made for the Tasty Testers for ZWT9. Thanks lazyme! :)
Preheat oven to 350°F
Cut off stem end of each tomato.
Scoop out pulp leaving 1/4 inch thick shells.
Turn tomatoes upside down to drain; set aside.
Heat a large skillet until hot.
Add sausage.
Cook and stir until sausage is browned, about 3 minutes.
Add green pepper, celery, garlic and thyme.
Cook and stir until vegetables are tender, about 2 minutes.
Remove from heat.
Stir in eggs.
Spoon meat mixture into reserved tomato shells.
Place in shallow baking pan containing 1/2 inch water.
Cover and bake until tomatoes are tender, 20-25 minutes.