Cajun-Spiced Smoked Shrimp With Rémoulade
Zurie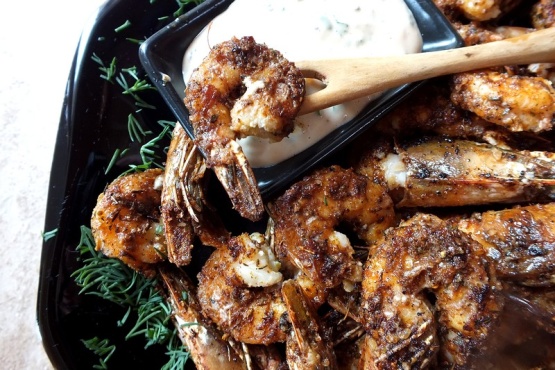 This recipe was in the August 2011 issue of Cooking Light. I made it for my family and boyfriend, and everyone loved it. I didn't have a smoker, so I just skipped using the wood chips and grilled the shrimp, which worked fine.

Top Review by Zurie
Made for PAC 2012. We love shrimp (or prawns, as we call it -- to us "shrimps" are those tiny cocktail ones!). This was great. I made the sauce first, then mixed the spices. I thought it might not be quite enough even for the 500 g (just over 1lb) large shrimps I used, so I made a little more than specified. I had to use my oven grill, as it was raining again here ... (yikes). Thanks for a great recipe!
Soak wood chips in water 1 hour; drain.
To prepare shrimp, combine paprika and the next 9 ingredients (through red pepper). Combine olive oil and shrimp in a bowl, and toss to coat. Sprinkle shrimp with rub, and toss to coat. Cover and refrigerate 30 minutes.
To prepare rémoulade, combine mayonnaise and the next 10 ingredients (through garlic) in a medium bowl. Remove yolks from eggs; discard yolks or reserve for another use. Finely chop egg whites, and stir into mayonnaise mixture. Cover; chill.
Remove grill rack, and set aside. Prepare the grill for indirect grilling, heating one side to high and leaving one side with no heat. Pierce the bottom of a disposable aluminum foil pan several times with the tip of a knife. Place pan on heat element on heated side of grill; add wood chips to pan. Let wood chips stand for 15 minutes or until smoking; reduce heat to medium. Coat grill rack with cooking spray; place on grill. Place shrimp in a grilling skillet; place skillet on grill rack over unheated side. Cover and grill 15 minutes or until shrimp are done, stirring after 7 minutes. Serve with rémoulade.