KateL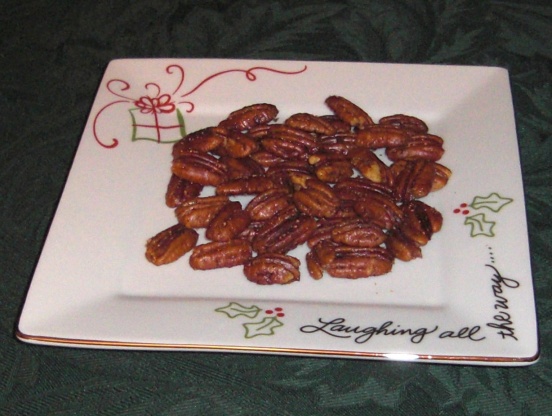 From a colleague (born and bred in the South) when I worked at LSU (Lousiana State University).

I made as stated other than I had to use worcestershire sauce instead of A-1. I'm making more to give as gifts!
4

cups pecan halves
1⁄2 cup butter

3

tablespoons A.1. Original Sauce

6

dashes Tabasco sauce
tony chachere's creole seasoning, pretend the t and c are capitalized
Preheat oven to 200 degrees.
Melt butter in bowl (microwave); stir in A-1 and Tabasco. Add pecan halves and mix well.
Pour onto jellyroll pan (cookie sheet with sides) and shake to distribute evenly.
Bake for 40 to 50 minutes in 200 degree oven. Stir every 10 minutes or so.
Remove from oven and drain on paper towels.
Sprinkle fairly generously with Tony's Creole Seasoning.
Cool; store in airtight container (or ziplock bags ).