Karl P.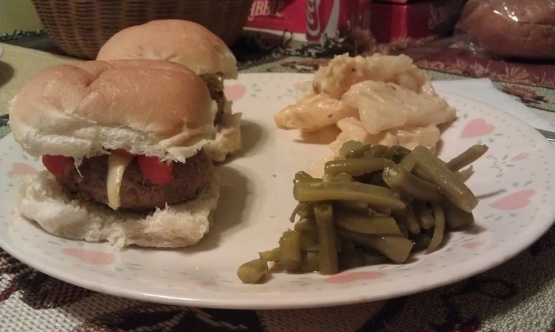 I got this out of Shape Magazine and had to make sure I saved it to try it one day. I love sliders and this is a healthy variety. I don't eat beef so I use ground turkey and ground chicken. You may use 6 ounces of ground beef in place of the ground chicken or ground turkey.

These are really good, super easy to make and spicy but not too spicy. Thank you for an easy alternative to a regular fatty hamburger. Made for New Kids on the Block Game.
Preheat broiler. Lightly coat a rimmed baking sheet with cooking spray and set aside.
In a medium bowl, combine turkey, chicken (or beef), Ketchup, Worcestershire sauce, 1/2 teaspoon Cajun seasoning, and hot sauce. Form the mixture into four fat patties (each should be a little wider than the bun) and set aside.
Lightly coat a large nonstick skillet with cooking spray and heat over medium. Place patties in pan, cover and cook for 4 minutes, than flip and cook for 4 to 5 more minutes or until the internal temperature reaches 165 F on a cooking thermometer.
In a small bowl, stir together mayonnaise and mustard, then spread on the inside of each bun. Put a patty on the bottom of each bun, top with an onion slice and 2 strips of bell pepper, and cover with bun tops. Serve immediately.