Cajun Shrimp over Coconut Rice
Rita1652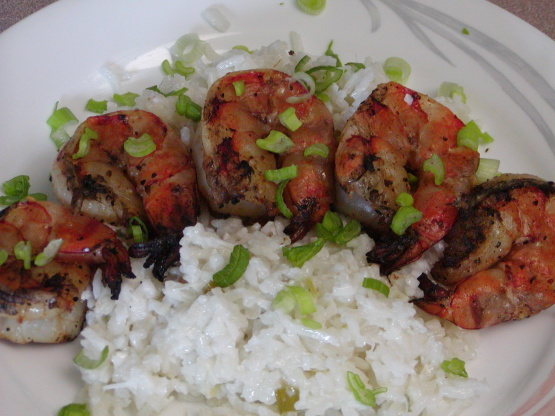 based on a recipe from intermezzo magazine. i use my mango peach salsa Mango Peach Salsa and this is a lovely dish

This was really good! I didn't have the mango peach salsa or the coconut flakes, but I did add the pinch of ginger, didn't really taste it though, it just blended in. The rice was really creamy, but I thought it could have tasted more like coconut, something was missing, I might make this again and play around with it!
preheat oven to 350, preheat broiler to high.
for the rice:.
melt butter in an oven safe dutch oven.
add scallions, garlic and ginger and cook until softened.
add rice, stir one minute.
add lemon and lime juice, vegetable broth, salt, pepper, bring to a boil.
cover and place in oven, bake 20 minutes.
remove, lift lid and let it cool 10 minutes.
fluff with a fork and mix in coconut milk and coconut.
cook over low heat until warmed through.
for shrimp: coat with olive oil and cajun seasoning.
thread 3 shrimp vertically on each skewer and broil 2 minutes per side.
serve shrimp over rice garnished with salsa.