momaphet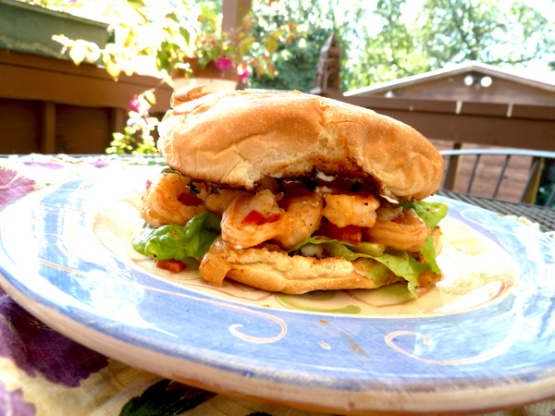 From Canadian chef Ricardo - delicious and zippy, especially with a tall cold bevvie sitting on the deck! Made it on the BBQ side burner.

DH and I made this shrimp burger for dinner last night. It is a good weeknight meal because it is fast and easy to prepare. The only modification that we made was to use regular Tabasco sauce in place of the jalapeno Tabasco because that was what we had on hand. We expected this to be a little spicier, and we ended up adding extra Tabasco to taste over our individual servings. Served with Recipe #501143.
Parsley Mayonnaise: In a bowl, combine all the ingredients. Refrigerate.
Cajun Shrimp: In a large nonstick skillet over high heat, brown the shrimp in half the oil. Season with salt and pepper. Set aside on a plate.
In the same skillet, brown the pepper and shallot in the remaining oil. Return the shrimp to the skillet. Add the garlic and spices. Cook for 1 minute, stirring continuously. Deglaze with the lemon juice and Worcestershire sauce. Adjust the seasoning. Set aside.
Toast the buns. Spread the inside of the buns with the parsley mayonnaise. Place the Cajun Shrimp on the buns. Garnish with tomatoes and lettuce. Cover and serve.