Cajun Sausage and Beans Packets
gailanng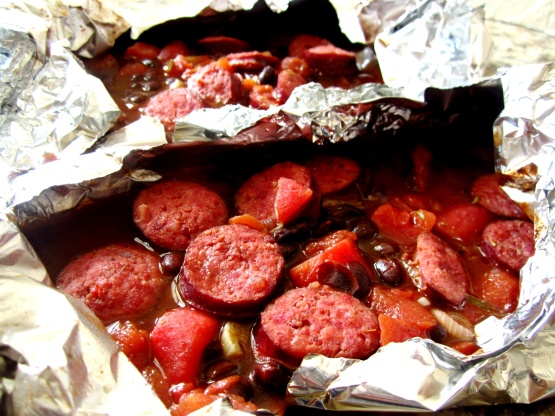 This recipe is adapted from a recipe from Reynolds Kitchens. My kids really like this, although lots of times they eat the sausage and leave the rest!

I started making this, fully intending to bake this in the oven as directed. Then I thought, do I really want to heat up the oven in the middle of the summer? So I made it instead as a stovetop skillet meal. I fried up the sausage until they were nicely browned, then added the other ingredients and cooked until heated through, about 15 minutes. I used one can of black beans and one can of white beans for variety. In true Cajun style, we enjoyed this over white rice.
Combine sausage, beans, tomatoes, and seasoning.
Center 1/4 of the sausage mixture on a 12 X 18 sheet of heavy duty aluminum foil. Bring up sides of foil and double fold. Double fold ends, leaving room for heat to circulate inside. Repeat to make 4 packets.
Place packets on a cookie sheet and bake at 450* for 18-20 minutes.