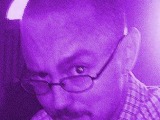 You can use this rub on any chicken, but I like it on thighs. They just have more flavor and don't dry out like breasts do. The rub can be stretched, though, to cover a whole chicken, if you like.
Directions
Combine all but the chicken in a small bowl. Rub the spice mixture evenly over the chicken thighs. Grill over medium heat, skin side down, for about 10 minutes. Flip the chicken and grill for another 5-10 minutes.
Reviews
Most Helpful
I made 1/4 of the spice mix for 2 boneless, skinless chicken breasts! Loads of flavour! Surprisingly, though, I found that the celery flavour was the strongest.

Ate a lot and you know what I just noticed? As you get older and your body shrivels up, coincidentially like the nose, your belly continues to appear larger.