Cajun Roasted Turkey or Chicken
Elmotoo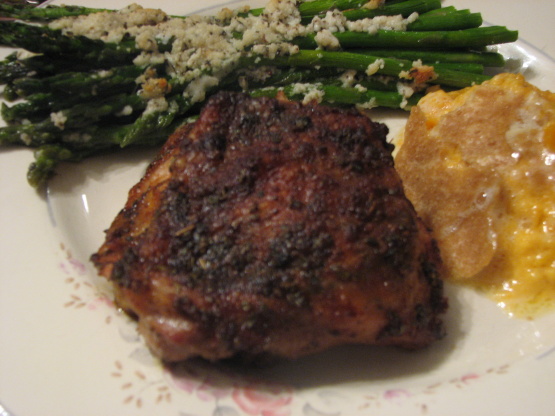 The deli at our local market sells the most wonderful Cajun turkey meat. It has just enough spice for me. I have a high sensitivity to spicy/acidic food. It blisters my mouth, so I have to be careful. This recipe is the closest I've found to duplicate the recipe. You could always pare down the size of the bird you're cooking.

Very flavorful and moist. I had a huge whole boneless, skinless chicken breast so I cut the seasoning in half and put a little water in the bottom of the pan under the rack. I cooked it to 170 degrees internal temp, covered it with foil and let it sit while I cooked my sides, then sliced it on the diagonal. Delicious!
Preheat oven to 350 degrees. In a small bowl, combine the seasoning, brown sugar, oil, oregano, and salt. Divide the mixture in half and add the garlic to one mix. Rub the garlic mixture under the skin. Rub the outside of the bird with the other mixture. Coat evenly.
Place on a wire rack in your roasting pan.
Roast until your thermometer inserted in the thigh registers 180 degrees and juices run clear, about 2 hours. Let stand 10 minutes before carving.
NOTE: I think that 180 degrees is just a bit high. Compare with the cooking chart on the wrapper the bird comes in (most usually there's one on the back).