Peppers of every kind are crucial to Cajun cooking, this colourful salad uses red, yellow and green capiscums, as well as peppery spices. Make it as chilli-hot as you can stand, to give this vigorous dish its authentic Cajun effect! Posted for ZWT5, from Linda McCartneys "World Of Vegetarian Cooking" The recipe uses Lindas Creole Vinaigrette for the vinaigrette, though you might choose to use another.
Directions
Cook rice according to packet instructions. Cool the rice.
Combine the cooked rice, peppers, chilli, red onion and celery in a salad bowl.
Toss thoroughly with sufficient vinaigrette to moisten, and season to taste with the optional Tabasco.
Sprinkle with the chopped spring onions and parsley before serving.
Reviews
Most Helpful
Was this ever good! Ate the leftovers for breakfast. I used the recommended vinaigrette recipe, which was crucial to the taste. I made no changes to this recipe at all.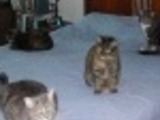 Excellent dish. My daughter really enjoyed the heat in this rice recipe. I also used your Vinaigrette to go with it. Made for Cajun Photo Forum Event.
I made this to serve alongside baked tilapia and thought it a flavorful side dish. It is very colorful & spicy. I enjoyed the heat level especially paired with a mild entree. I did use Lindas Creole Vinaigrette and Lindas Cajun Spice Mix. Made for Fall '09 Pick A Chef.