Derf2440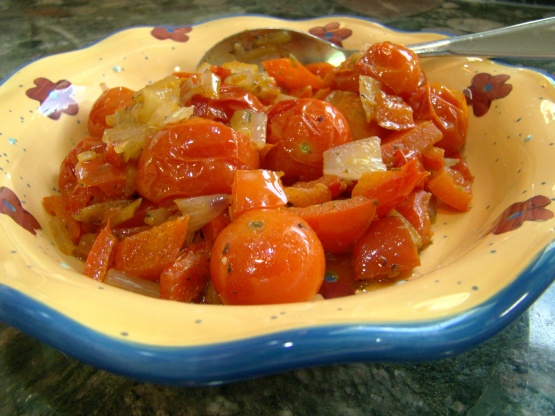 My husband is not very fond of tomatoes. With all of the health benefits they have, though, I've tried to come up with some combinations he will be enthused about....and this is one of the results. Spicy hot....you could use less of the Cajun seasonings, if you like. Since we like highly seasoned food, I generally serve some optional hot sauce with this, too. Oh, yes....he does eat this very well!

Very spicy delicious dish! Loved it and will certainly be making it again, lovely way to us up our cherry tomatoes. To cut back a bit on the calories I used just 1 tablespoon of olive oil rather than the butter, We didn't think it needed the taobasco sauce, it was just right with just the amount of cajun seasoning. Thanks for posting.
In small skillet, melt butter; add tomatoes, red pepper and onion.
Sprinkle with the Cajun seasoning.
Over medium heat, cook, stirring occasionally, for 10-12 minutes or until done to your likeness.
Serve with hot sauce, if desired.