gailanng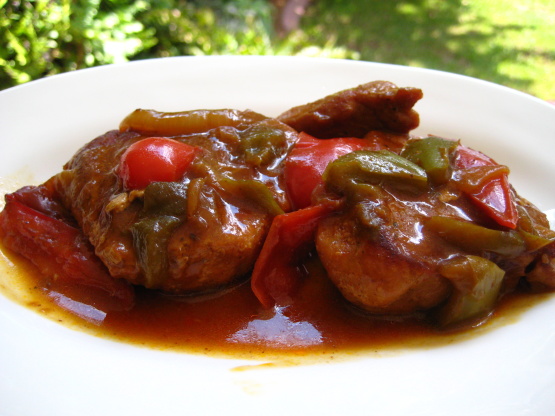 Serve with steamed rice to soak up the sauce, add some greens on the side and you have a great dinner. From Pol Martin Cookbook

Absolutely delicious! This was part of a cross-culture dinner tonight,as I made it to go with Recipe #373114 from the Caribbean. Any self respecting Cajun would have had tears in his eyes! Served it over Recipe #177017. I couldn't find pork cutlets, so I just used thin boneless chops. Will have this again. Thnx for posting, daisygrl! Made for ZWT5 for RRR
mix herbs and spices together, rub half of mixture into meat.
heat butter in large frying pan over med heat, add pork and cook 3 minutes on each side, season with salt and remove from pan, set aside.
add onions to hot pan and cook 3 minutes over med heat, add peppers and remaining spice mixture, mix and cook for 7 minutes.
sprinkle in flour, mix well and cook 3 minutes.
add chicken broth and honey. cook 5 minutes over low heat. return pork to pan and simmer 2 minutes.
Serve.