Geema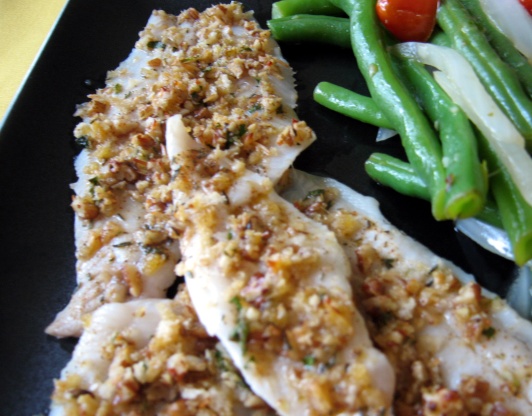 This recipe came from the local Catfish Festival....yes, we can use almost anything to have a reason for a party! VERY delicious way to serve catfish!
Preheat oven to 425 degrees.
Coat a shallow baking dish with nonstick cooking spray.
Place fish in pan and set aside.
Combine oil, cajun seasoning, lemon juice and thyme in a small bowl and mix well.
Spoon or brush half of the mixture on the fish.
Combine breadcrumbs, chopped pecans, parsley, parmesan cheese and the remaining half of the oil mixture in a small bowl and mix well.
Spread mixture onto fish filets.
Bake for 10 to 15 minutes (longer depending on the thickness of the fish) or until fish flakes easily. Garnish with parsley sprigs and lemon wedges.