loof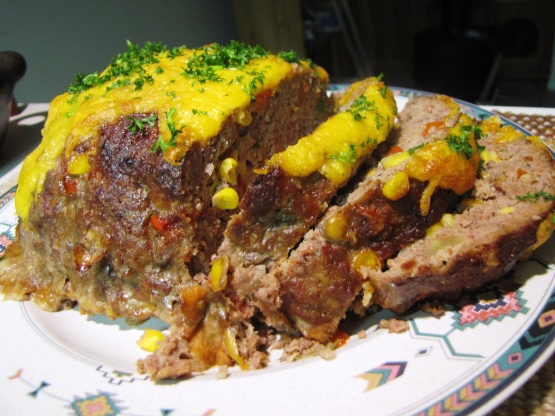 This recipe comes from the issue of October 2006 from Coup de Pouce. Something I want to try soon :P
This is delicious meatloaf! What a great change from the usual. I like the spiciness. Thanks for sharing! Made for Gimme 5 tag.
In a skillet, heat oil at medium heat. Add garlic, onion, carrot, red bell pepper, cajun seasoning, salt and pepper. Cook, stirring from time to time, for about 5 minutes or until onion has soften. Add corn and keep cooking 2 minutes. Let cool a little bit.
In a big bowl, mix egg, corn chips, salsa, water, beef and pork, and mixture of veggies. Put the mixture on a baking sheet with foil paper and shape in a loaf of 9 x 5 inch. Cook in a preheated oven of 350 F for 1 hour 20 minutes. Sprinkle with cheddar cheese and keep cooking for about 10 minutes or until internal temperature reads 170°F Let stand the meatloaf for 5 minutes. Remove the fat from the meatloaf, then sprinkle with parsley.