NELady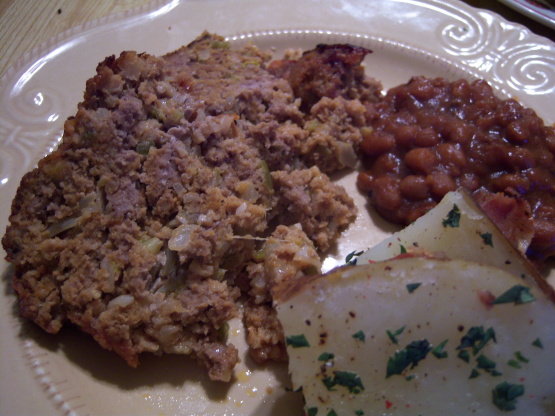 I got this recipe from Ladies Home Journal several years ago. My family loves it and requests it often. Because it takes a little more time for the prep work, I usually double the recipe and freeze the other loaf.

Top Review by NELady
I used a medium onion and whole bell pepper (didn't measure them out) - also, I added about a cup of panko breadcrumbs to the mixture as it was loose and I was concerned about it setting up. Also, I used 100% ground beef - ground pork doesn't fly with my husband and he won't eat it. Other than that, I followed the directions exactly. After baking it and letting it set, it kind of crumbled and came apart when I tried to slice it. It was tasty (actually, it tastes quite a bit like taco meat - in fact, since the whole meatloaf crumbled apart, I'm using the left-overs tomorrow at lunch for tacos!) - I enjoyed the combination of flavors and really liked to addition of the sauteed vegetables to the meat. Maybe if I'd added another egg this would have been more "loafy" at the end? Or maybe adding the breadcrumbs screwed up the formula? Presentation aside, this TASTED good, which is more important than anything at my table. I added all of the spicy ingredients, and was relieved that this wasn't over-the-top spicy - just a nice hint of heat. I served this with recipe #366896 and left-over BBQ baked beans. Made for the Groovy GastroGnomes, ZWT5.
Melt butter in medium skillet over medium heat. Add green onions, onions, green pepper, celery and garlic; cook until softened. Stir in salt, cumin, pepper, ground red pepper, nutmeg and bay leaves and cook 1 minute. Stir in ketchup and half-and-half and simmer 2 minutes. Cool. Remove bay leaves.
Heat oven to 350ºF. Combine ground beef, ground pork, eggs, worcestershire, and tabasco in large bowl. Stir vegetable mixture into meat mixture until well blended.
Spoon mixture into 9x5 loaf pan. Bake 70 minutes until meat thermometer inserted in center registers 160ºF. Cool in pan on wire rack 5 minutes. Drain and unmold onto serving platter.