Bergy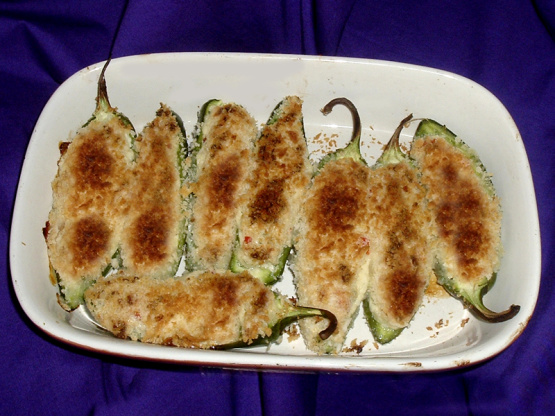 This recipe came from taste testing poppers all over. I combined what I liked and discarded the rest. You can use fresh peppers or prepackaged peppers (not recommended,to soft). If I use fresh, I sometimes like to slice them in half, leaving the stem, de-vein and seed them and saute' them in my favorite beer to soften them up just a little (2-4 minutes). Another tip is to always use protective cooking gloves when dealing with peppers.

I made these for dinner tonight. I used low fat cream cheese, the optional cilantro and the optional mushrooms. I used 9 jalapeno and 9 mini sweet peppers because we have some members of our family who can not stomach hot things. I also reduced the cayenne pepper to one pinch. I wanted to make sure that it had flavor but not heat. I didn't have the called for bread crumbs so I used a mix of panko and fresh ground Italian seasoning. While they took longer to cook than called for, they were a success. We served them with some hickory smoked Sloppy Joe's. Yum!
18

fresh fresh jalapeno peppers

6

ounces cream cheese

3

ounces of shredded cheese (cheese of your choice or any mixture, I use 2 or more of the following parmesan, cheddar, colby, ric)
progresso breadcrumbs

1

clove pressed garlic
1⁄2 ounce olive oil

2

tablespoons finely chopped green onions
1⁄2 teaspoon chopped cilantro (optional)

12

slices pimientos, finely chopped

3

pinches cayenne pepper (1tablespoon or to taste)

Optional additions

1

ounce finely chopped mushroom (optional)

2 -3

ounces of finely chopped cooked meat (crawfish,ground meat or sausage) (optional)
queso sauce (optional)
sour cream (optional)
picante sauce (optional)
ranch dressing (optional)
Halve the jalapenos leaving the stem attached, de-vein and seed them.
Setting the halved jalapenos and bread crumbs aside, mix all of the other ingredients together.
Take your mixture and completely fill the jalepeno cavities to their brim and set aside.
Put bread crumbs on a flat plate.
Take jalapeno halves, one at a time, and roll cheese side only in bread crumbs and place cheese/crumb side up on a baking pan Once completed if you like a thick crumb layer, you can repeat this step.
If you do not intend to bake finished product skip the rolling part and just lightly sprinkle the top of the jalepenos with the bread crumbs.
Bake at 350 for 15 minutes or until mixture starts to bubble.
I like to refrigerate at least 1 hour prior to baking Sometimes I prepare the day before, cover and refrigerate.
Serve warm, room temperature or chilled with any or all of the recommended sauces.