Cajun Grilled Pork Tenderloin W/ Bourbon-Mustard Glaze
diner524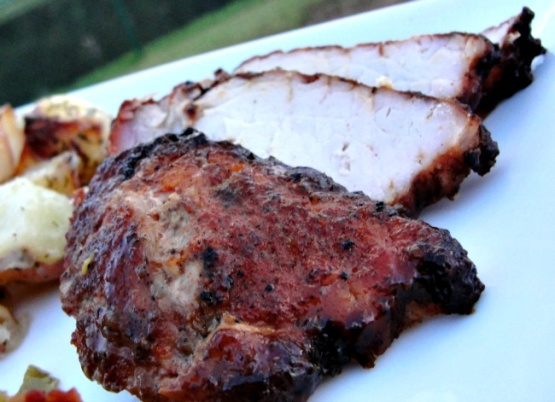 You'll be wishing you made double of this tender and juicy pork tenderloin that is enveloped in an amazing bourbon-mustard glaze. Your guests will be coming back for seconds and thirds! Marguerite, in her Cajun Delights blog says right out that it's "out of this world" delicious and will send your taste buds into orbit, cher!" It's true!
WOW!!!! What a great recipe for pork tenderloin!! I am a wimp when it comes to heat/spicy foods, but this one is so addicting (despite being spicy) that I kept going back for more meat, lol!! Just loved the flavors of the sweet spicy glaze with the spicy meat and then the flavor of the grill that comes into play from the BBQ, so good. This one is going into my "Best of" cookbook. Thanks for sharing the recipe. Made for ZWT 9.
Wash the pork tenderloins and pat dry. Rub them generously with the Cajun rub.
Preheat the grill on medium high heat. Place on grill for a few minutes on high. Sear until grill marks appear on all sides of the pork. Blackening will enhance the flavor.
Turn the grill down to the lowest heat, or move to the side where they will only receive indirect heat. You want to set the grill to about 325 to 350°F Cover the grill, and let the pork cook for about 30 minutes.
Meanwhile, make the glaze by placing all ingredients in a small saucepan and bringing to a boil. Lower heat and cook for 5 minutes, stirring occasionally. Set aside.
After 30 minutes on the grill (from Step 3), turn and baste the tenderloin with the bourbon-mustard glaze. Continue grilling for 15 minutes, turn and baste again, and continue grilling for 15 more minutes, for about an hour total.
Insert a meat thermometer and when the pork reaches 150°F, remove to a platter. Cover with foil and let rest about 15 minutes. Slice and serve with extra glaze.