Nimz1466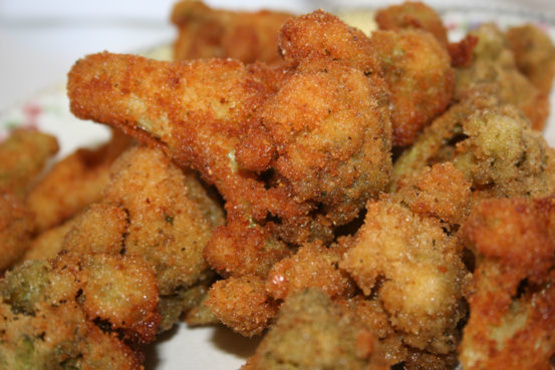 This recipe originally came from my Cajun great grandmother. She didn't speak any English, but her cooking always received that universally understood "Mmmm!" I have modernized the recipe, by using purchased crab-boil and Cajun seasoning, instead of her multitude of mixed spices. (Prep. and cook times are a "guesstimate").

OMG... so good that I'm munching on it now and didn't want to wait to review. I made some changes based on what I had, but followed the directions to boil, then cook a second time. I had Old Bay, but not a thing of crab boil, so I used that in the water, then rinsed the excess off after the cauliflower sat a few minutes in the water. I had a very small head of cauliflower that probably should have boiled less time. I then changed the directions so I could bake this rather than fry. I preheated the convection oven to 425', then did the egg/lemon wash, and breaded in cajun seasoned panko. Drizzled melted coconut oil over the whole thing, then baked 15 minutes, flipped them, and baked about 5 more. Crispy, spicy, and delish! I'm already putting cauliflower on the shopping list so I can make this again, but will get the crab boil to see how different it tastes. Thanks for sharing!
1

head cauliflower

3

ounces crab boil seasoning (net-bag kind)
1⁄2 tablespoon salt

4

eggs (well beaten)
1⁄3 cup lemon juice

4

cups dry breadcrumbs
1 1⁄2 tablespoons cajun seasoning (Tony Chachere's or Emeril's Essence)

24

ounces cooking oil
Wash head of cauliflower.
Place cauliflower in a large pot with enough water to cover.
Add the bag of crab-boil, and the salt to the water.
Bring to a boil; cook for about 8-10 minutes, or until cauliflower becomes "fork tender".
When cauliflower becomes tender, remove from heat and allow cauliflower to "soak" in the spice for about 3-5 minutes (the longer it soaks, the spicier it gets).
Remove cauliflower from the water and drain.
Cut cauliflower into florets.
Place breadcrumbs in a large bowl and mix in the Cajun seasoning.
Mix together the beaten eggs and the 1/3 cup lemon juice.
Heat enough oil to deep fry the cauliflower to 350°F.
Coat each floret in the egg mixture, and then dredge in the breadcrumbs.
Deep fry until breadcrumbs turn golden brown, about 2-3 minutes.
Drain well on paper towels.
Serve with your favorite dipping sauces if desired.