MsSally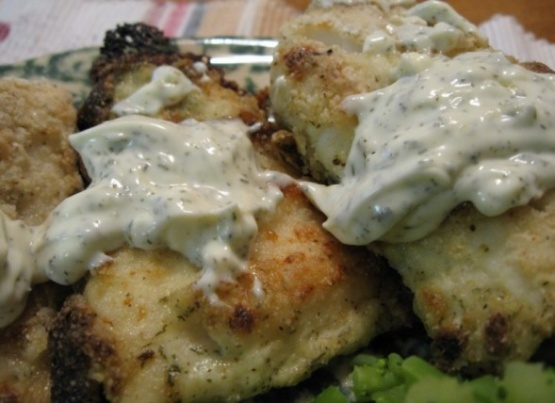 In this recipe, tilapia, haddock or sole fillets can be use. This recipe comes from the issue of March 2006 from Coup de Pouce.

Nice fish preparation! I subbed in gluten free flour due to personal need. The fish came out nice and moist on the inside with that timing. Thanks for sharing! ZWT9
In a not too deep bowl, mix flour, cornmeal, cajun seasoning, salt and pepper. In another bowl not too deep, mix mayonnaise, dill and lemon juice (set aside 1/4 cup of this mayonnaise for later).
Soak fish fillets in the mixture of mayonnaise, then in the mixture of flour flipping them to coat well. Put fish fillets on a greased baking sheet.
Cook in a preheated oven of 450 F for about 10 minutes or until croquettes are golden. Keep cooking under the broiler for about 4 minutes or until crispy. Serve with the mixture of mayonnaise that you set aside.