lazyme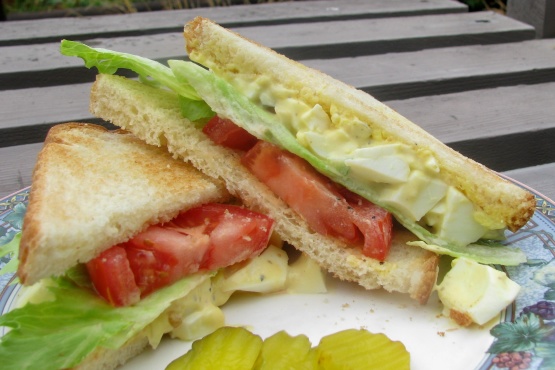 From the Fox13now.com website credited to Jennifer Burns of Dan's Market. I made a half batch of this egg salad for lunch today. Actually, I used 4 eggs (what I had on hand) and halved the other ingredients. I used pickle relish for the dill pickle. Be careful with your cajun seasoning. I read somewhere that paprika should be the highest proportion in a good Cajun seasoning. Other types can be heavy on the salt (like the one I used) so my salad was a little salty when tasted on its own, but fine once I put it into a sandwich. I did not use salt and pepper to taste. I served on toasted English muffins with tomatoes, but skipped the lettuce. Prep was very fast for me because I used an egg cooker. The recipe does not reflect time to hard boil the eggs.

This was very good! I really like the kick the Cajun spice added! Like another reviewer said, don't use salt and pepper if salt is one of the first ingredients in your Cajun spice bottle. I tasted it while combining it and it was a little salty so I didn't add any s&p. I left it in the fridge for a half hour and when I ate it with the lettuce and tomato it tasted perfect! Thanks for a great sandwich!
In a large bowl, combine the first 8 ingredients with salt and pepper. Mash the eggs and combine well. Divide the egg salad among 4 toast slices. Top with the lettuce and tomato slices. Top with other toast piece. Serve immediately.