Cajun Cucumber and Onion Salad
gailanng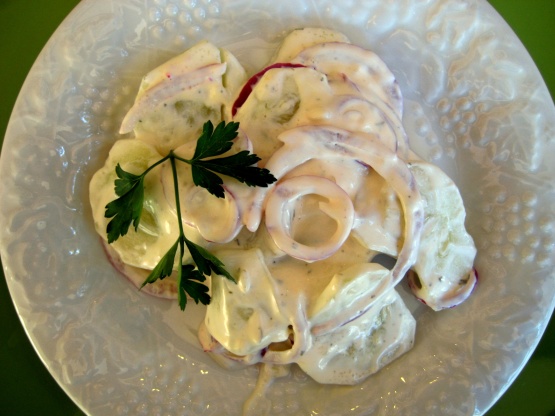 Adding a little kick to an old favorite. Great at a summer BBQ- easy to make and take!

Brings back childhood memories- thanks. I have made this several times and I love it the next day better than the night I made it. something about the onions getting time to mellow out. YUM so I would say that you could make this the night before a cookout, just stir slightly cause liquid tends to separate out from the cukes
Cucumbers-peeled (if desired-I don't like the bitter taste the peel has) slice thick or thin your preference.
Purple onion sliced thick or thin your preference into rings and rings separated.
Place onion rings in very cold water for a few minutes then drain very well.
Meanwhile mix in a nice serving bowl all remaining ingredients tasting and seasoning or adding more mayo if to thin.
Tasting and adding what is needed for your taste.
Fold in the onions now let sit in the refrigerator for about 2-4 hours. It will become watery in the fridge, so a quick folding with spatula before serving will mix everything back together.