lazyme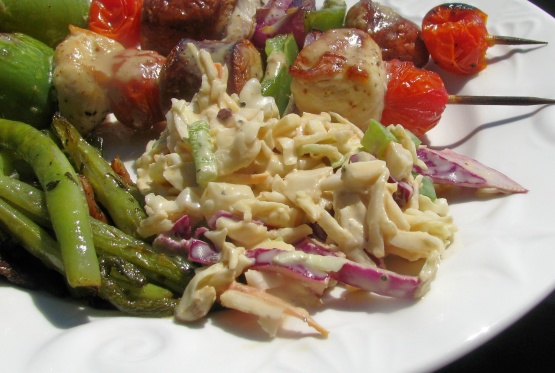 A zesty alternative to your usual slaw. Make this about an hour before serving so flavors have a chance to meld, or make the day before and refrigerate until ready to serve. To make this vegetarian, use vegetarian Worcestershire sauce. Cook time is refrigeration time.
In a mixing bowl, whisk the mayonnaise and mustard until combined. Add olive oil slowly while whisking and whisk until the mixture has returned to the original thickness of the mayo.
Add the hot sauce, ketchup, vinegar, worcestershire and lemon juice, whisking completely after each addition.
Stir in the garlic powder and salt and pepper.
Place bell peppers, onion and cabbage in a large bowl, pour dressing over and toss to thoroughly combine.
Refrigerate for at least an hour.
Serve cold.