Cajun Cocktail & Cajun Tartar Sauces
teresas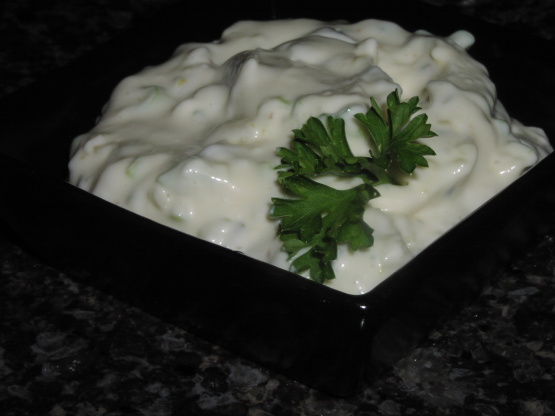 These two recipes have been submitted for play in ZWT9 – Cajun/Creole. Both these recipes are from cookbook: Cajun Cooking by Better Homes and Gardens. Cocktail Sauce & Tartar Sauce are served with all kinds of fried Cajun dishes, frog legs, catfish and seafood platters to name a few.

Made both sauces but on different days...I felt the cocktail sauce had a very tomato taste along with it being very sour from the lemon...so I added a touch of sugar and it was perfect...I cut both recipes in half...I made the tartar sauce to go with my tuna nuggets that I made...I didn't have sweet pickles so I just used relish...both of these will be made again...made for "First Time" tag game...
Cajun Cocktail Sauce:.
In a large pot cook onions and garlic in butter until tender.
Stir in the water, tomato paste, prepared horseradish, lemon juice, dry mustard, salt and ground red pepper.
Bring to a boil, reduce heat, simmer, uncovered 5 - 10 minutes.
Serve warm or chilled with fried fish and seafood. Top the cocktail sauce with grated fresh horseradish, if desired.
Makes 3/4 cup of sauce.
Cajun Tartar Sauce:.
In a bowl stir tegether the mayonnaise, sweet picle, green onion, parsley, lemon juice and hot pepper sauce.
Served with fried fish and seafood.
Makes 1 1/4 cup of sauce.